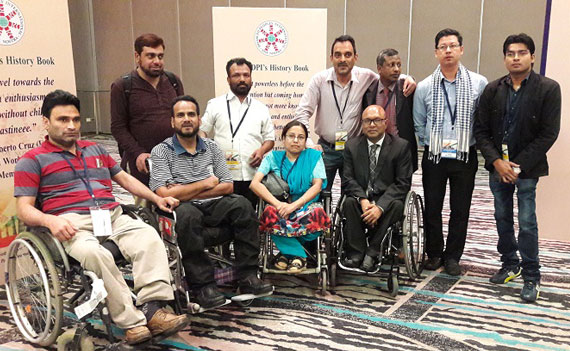 Javed Ahmad Tak
Humanity Welfare organization came into existence when a young boy, Javed Ahmad Tak, became victim of armed conflict in Kashmir. A single bullet hit in his spine changed his life. Javed can't walk. He is wheelchair bound. The boy didn't give up but started his dependent life in independent way.
At first instant the boy started to provide free education to poor orphans physically challenged and other students belonging to other under privileged classes. His continuous efforts and struggle made it possible to form an organization, with those students, who sought free tuition from him. The unorganized people formed a group with the intention to serve poor children.
The group started collecting used books, uniform, stationary items. Finally the group became concerned about the disability issues as their guide or the founder chairman is a spinal injured person and started fighting for the protection of the rights of disabled. The amount of Rs 75000/-, he received as ex-gratia relief from the government, against his disability was spent on the first activities of the organization.