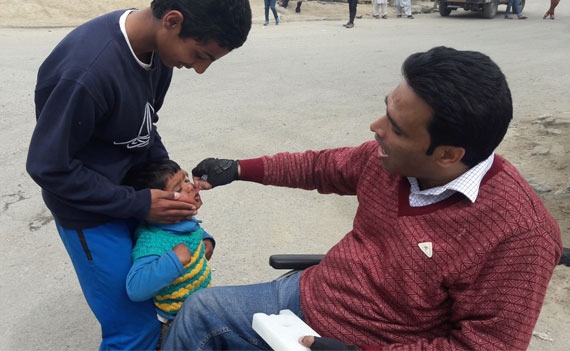 To work for betterment of common masses and welfare of humanity and to do the following:
To provide financial support and other assistance to persons with Disabilities, orphans, widows, aged and oppressed for generating livelihood in and around Kashmir.
To establish and sponsor schools, Computer education Centers, rehabilitation centers, vocational Training centers and hostel facilities for differently abled persons, orphans and all other needy persons in Kashmir.
To provide education to all especially different abled children, orphans, weaker sections and below poverty students in Kashmir.
To support community in living peaceful and dignified life.
To work for betterment of persons with Disabilities in Kashmir and to do the following:
To provide them help by making them aware about schemes and provisions for the welfare of persons with disabilities existing in various government and private departments of Kashmir state.
To make them skillful in different trades by providing vocational training
To arrange home for Differently abled persons.
To establish institutes cum rehabilitation centers, physiotherapy centers and to manufactures crutches, artificial limbs and other things needed by differently abled persons.
Involve community in the rehabilitation process.
To provide barrier free environment for differently abled persons and work for creation of Disable friendly Environment in Govt. Offices, Transport and public places.
To work for the advocacy of rights of persons with disabilities at local, state and National level.
Support community in calamities, risks and emergency situations.
Support all organizations who initiate social activities for upliftment of poor and under privileged.
To upraise women values, providing education and aid them in setting up home industry and to do the following:
To make women aware of their rights and stop atrocities against women in the society.
To guide women in promoting education and make them aware about social welfare schemes and to help them to earn a living.
To work for universal brotherhood and tranquility and Peace by the following:
To promote moral values in society.
To conduct seminars.
To motivate young generation for ignoring violence and make peace processes and gives them an idea of peaceful world.
To provide free medical assistance to poor, needy and persons involved in serious diseases and to do the following:
To make people about dangers of narcotics and aware them about Drug Addiction Wizards.
To organize blood donation camps and donate blood for needy patients.
To provide free medical aid to poor, persons, with disability and needy.
To make people aware about Health and Hygiene.
To promote awareness about dreadful diseases like cancer, aids and other serious communicable diseases.
To promote the importance of Ayurveda / Indian System of Medicines.
To help all those organizations that work for the betterment of health and hygiene and provision of dignified shelter to poor and underprivileged.
To work with all those movements that work for early identification, detection and minimization of disability..