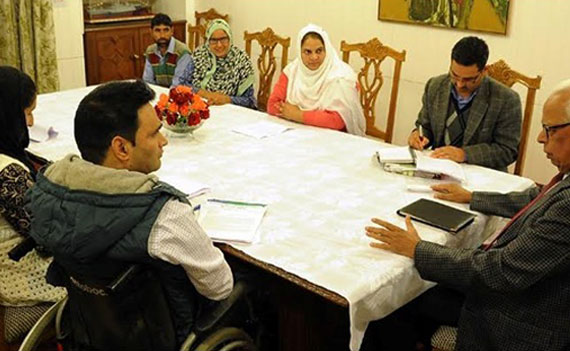 Some achievements of our advocacy programme
Work at Kashmir University
3% reservation in jobs and mentioning 3% horizontal reservations on identified jobs for persons with disabilities by State Service Selection board.
Construction of Ramps at various departments , including administrative department , examination building and many other departments where students with disabilities were enrolled in Kashmir University.
Provision of special scholarships to students with Disabilities.
Reservation in all distance mode courses.
Fee waive in all sort of examinations.
Creation of special cell for motivation of students with disabilities
Job Identification for PWDs
Earlier jobs identified for persons with disabilities under government orders 62 SW and 108 SW of 2014 were favoring persons with minor disabilities. Through various advocacy programmes by HWOHL, major changes were made in the government circular and it was replaced by SW 147 dated 14/06/2014. Earlier blind and both leg disabled were not given post of teacher but now both can become teachers in any educational institutions including higher secondary, college and university under the defined designations there. In previous orders, the persons with disabilities were not allowed to sit in the combined services Exams. Now all types of disabled people including blind, both arm and both leg disabled people can compete in JK civil service exams.
Conveyance Allowance for PWDs
Humanity Welfare organization HelpLine lobbied for the Rights of disabled employees. Disabled Employees were given conveyance of allowance of Rs 200 per month. It was meagre amount and could not meet the requirements of these employees. The matterwas takenn with finance minister of J&K and he brought the amendments in the SRO. Conveyance Allowance was raised to Rs 1000/=.SRO 264.-In exercise of the powers, conferred by the proviso to section 124 under notification No: 23 August 2012. Hundreds of employees with disabilities got benefitted with the raise in conveyance allowance
Transfer of Disabled employees at native places
Employees with disabilities were posted on far off places without considering their disability. Honorary chairman of our organization took the matter with Secretary to government Social welfare Department and explained the pathetic condition of persons with disabilities while travelling to far off places. The Secretary framed a circular No. 2 -SWD of 2014 Dated 19-5 2014, under Subject: Transfer Policy in respect of Physically Challenged Persons. Under this circular, all departments in the government were directed to transfer persons with disabilities to the native places so that they can perform their duties without facing hard situations.
Barrier free environment in government offices
Our organization has been strongly advocating for the barrier free environment in Jammu and Kashmir state. After heavy agitations, Social welfare department issued circular. The Circular No. 2. SWD of 2014, Dated 19-06- 2014.